President of SARAD GmbH visited CIRP
2018-04-12
2018年4月2日,德國SARAD公司總裁Thomas Streil與產品研發經理林瀟來院訪問,就輻射防護儀器儀表領域的合作與我院進行了交流。常學奇院長會見了Thomas Streil總裁一行,對雙方的合作前景寄予了希望。雙方初步達成了合作意向,將盡快編制可行性研究報告,力爭實現項目落地。院辦公室國際合作組、院核電與產業處、中輻科技、中輻核儀、放射醫學所代表參加了交流。
Dr.Thomas Streil, president of the Germany SARAD GmbH and Dr.Lin Xiao, the research and development manager, visited CIRP on 2 April 2018. Both sides exchanged views on cooperation in radiation protection instruments. Prof.Chang Xueqi, president of CIRP, met with Dr.Thomas Streil and Dr.Lin Xiao and reached a consensus on bilateral cooperation and follow-up work. Feasibility research report will be compiled as soon as possible to boost project implementation. Representatives from International Cooperation Office, Nuclear Power and Industrial Development Office, Zhongfu Technology Co., Ltd, Zhongfu Nuclear Instruments Co, Ltd, and Department of Radiological and Environmental Medicines also attended the exchange meeting.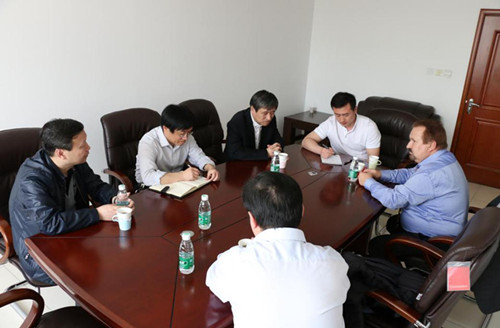 SARAD GmbH公司創立于1993年,公司主營業務由最初的放射性相關項目評估逐步發展到輻射測量儀器的研發與制造領域。公司立足于氡釷以及放射性氣溶膠測量,將產品擴展至醫療、環保、地質、核工業等多個領域。其公司研發的氡監測儀和個人氣溶膠在線測量儀以其高測量率、高靈敏度和低價格在歐洲市場已有較高的占有率。
SARAD GmbH was founded in 1993, the main business of which evolved from radioactivity assessment projects to radiation measurement instruments. With the main R&D area in radon, thorium and radioactive aerosol measurement, the company has promote its products to many fields, such as medicine, geology, environmental protection and nuclear industry. The radon monitor and personal online continuous aerosol monitor developed by the company own great market share in Europe because of their obvious advantages in measurement efficiency, sensitivity and price.