IAEA(ANSN) Regional Workshop Held in Taiyuan
2018-08-07
IAEA (ANSN) Regional Workshop for Central Governments and Regulatory Bodies on the Development of National Strategy and Regulatory Requirements for Radioactive Waste Management, hosted by CIRP, was held in Taiyuan on 9 July. Experts from IAEA and participants from 10 Asian countries, including Japan, Bangladesh, Indonesia and Malaysia, conducted discussions on the development of the legislation and regulatory framework of radioactive waste management as well as the general requirements and application of materials clearance. Tetiana Kilochytska from the Waste and Environment Safety Section of IAEA attended the meeting. Mr. Liu Qun, the vice president of CIRP, made a speech on the opening ceremony of the workshop.
7月9日,由我院承辦的IAEA"亞洲核安全網絡(ANSN)關于制定放射性廢物管理國家策略和監管要求區域研討會"在太原召開。 IAEA專家與來自日本、孟加拉、印度尼西亞、馬來西亞等10個亞洲國家的與會者就放射性廢物管理的立法和監管框架,輕微污染物料清潔解控的一般要求和應用等進行了研討。IAEA放射性廢物與環境安全處的基洛奇特斯卡·泰蒂安娜(Kilochytska Tetiana)代表機構出席會議。中國輻射防護研究院副院長劉群出席了開幕儀式并致辭。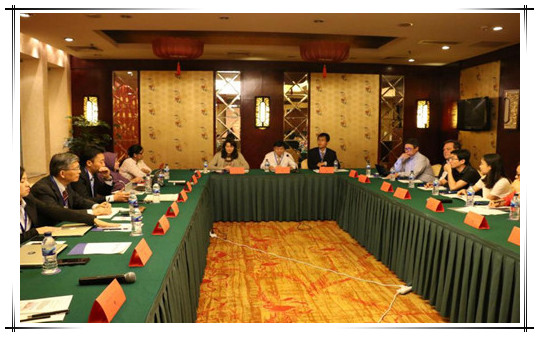 Participants from CIRP showed member states the laws and regulatory requirements and detailed procedures of clearance of materials in China. Additionally, practices and research achievements on clearance of CIRP were presented. This regional workshop further increased the channels of cooperation concerning clearance of materials among CIRP, IAEA and participating countries.
中輻院代表向與會成員國展示了我國在輕微污染物料清潔解控方面完善的法律法規要求、監管控制和詳細的程序要求,以及中輻院在多種輕微污染物料清潔解控方面的實踐和科研成果。此次活動進一步拓展了中輻院與IAEA及與會各國在輕微污染物料清潔解控方面的國際合作渠道。
The Regional Workshop, which is organized according to the ANSN Activity Plan for 2018-2020, aimed at contributing to, firstly promoting the development and implementation of national strategies for radioactive waste management and establishment of general standards for clearance of materials in participant countries, and secondly encouraging the application of clearance concept to carry out the recycling, reuse and disposal in landfills of materials so as to realize the minimization of radioactive waste accumulated in various nuclear activities and facilities as well as reduce the cost of disposal and regulation.
本次研討會是亞洲核安全網絡(ANSN)2018-2020年活動計劃的一部分,旨在推動與會成員國盡快建立并實施放射性廢物管理國家戰略,建立輕微污染物料清潔解控的一般性準則,應用清潔解控概念開展輕微污染物料再循環、再利用以及在市政填埋設施中的處置,進而實現不同核活動或設施中產生的放射性廢物總量的最小化,降低處置和監管成
本。