Chairman of International Commission on Radiation Units and Measurements (ICRU) Visited CIRP
2018-09-14
國際輻射單位與測量委員會(ICRU)主席Hans-Georg Menzel教授于2018年9月3日來訪我院,并為我院廣大科研人員作了題為"國際輻射單位與測量委員會的最新研究進展"的學術報告。
Prof. Hans-Georg Menzel, the chairman of International Commission on Radiation Units and Measurements (ICRU), visited CIRP on September 3, 2018 and conducted an academic report titled Recent and Ongoing Activities of ICRU.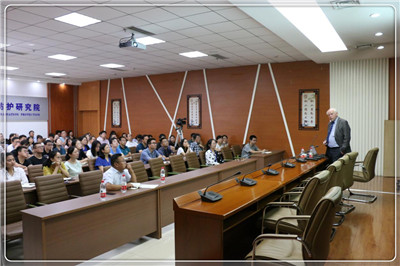 Menzel主席首先介紹了ICRU成立和發展的歷史、使命和工作領域,歷數了ICRU近二十多年來關于醫學應用和輻射防護的16篇經典報告,以及ICRU正在重新考慮和修訂的ICRP116號出版物中對應高能射線的有效劑量新的劑量轉換常數。Menzel主席還介紹了ICRU92號報告中關于大量核素環境釋放及公眾照射的防護與監測等內容,并對RC-29號報告中電離輻射急性照射早期個人劑量評估方法(內照射和外照射)以及微劑量學正比計數器進行了介紹。劉立業副院長主持了報告會并陪同Menzel主席參觀了我院新建成的放射生態實驗室和即將竣工驗收的放射毒理實驗室。Menzel主席曾于2015年到訪我院,他對我院過去幾年間能力建設取得的新進展表示欽佩,勉勵中輻院在高水平科研實驗條件下繼續為世界輻射防護研究作出新的更大貢獻。
History, mission and working fields of ICRU were introduced at the beginning of the report. Prof. Menzel then enumerated the 16 classic reports concerning medical applications and radiation protection produced by ICRU in the past 20 years and explained dose conversion coefficients for effective dose at high energies currently being reviewed and revised in ICRP 116 publication. Additionally, Prof. Menzel introduced several parts of ICRU 92 Report, including major release of radionuclides to the environment, protection and monitoring of public exposure, etc. Methods for initial-phase assessment of individual doses following acute exposure to ionizing radiation (internal exposure and external exposure) and microdosimetry proportional counter in RC-29, an ICRU-EURADOS Joint Report, were also introduced.
Liu Liye, the vice president of CIRP, hosted the academic report and accompanied Prof. Menzel on his visit to the newly built Radiation Ecology Laboratory and the nearly completed Radiation Toxicology Laboratory. Having visited CIRP in 2015, Prof. Menzel witnessed the great changes and the achievements in CIRP's capacity building and expressed his appreciation. He encouraged CIRP to contribute more to radiation protection research with such high level experimental conditions.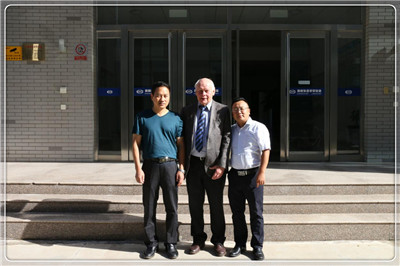 Menzel主席早年畢業于德國薩爾州大學,主修物理學,除擔任ICRU主席外,還是ICRP主委員會成員。他的主要研究領域包括高能輻射劑量學和微劑量學、高LET輻射療法劑量測定與應用中的基本核數據與使用儀器、輻射防護、醫學物理學以及放射生物學。其就職的ICRU專門研究電離輻射物理量與單位,以及相關物理量的測量和應用,為國際上各相關學術組織及機構提供高水平技術支持。
Obtained his Ph.D in physics from the University of Saarland (Germany), Prof. Menzel was elected chairman of ICRU in 2010 and is a member of the Main Commission in ICRP. His main research activities are in the fields of dosimetry and microdosimetry of high-energy radiation, basic nuclear data and instrumentation for dosimetry and applications in high-LET radiation therapy, radiation protection, medical physics, and radiation biology. And ICRU, specialized in physical quantities and units of ionizing radiation as well as measurement and application of related physical quantities, is committed to providing high level technical support to related academic organizations and institutes.