CIRP to Deepen Cooperation with Hong Kong Observatory (HKO)
2018-09-14
2018年9月10日,香港天文臺高級科學主任馬偉民來院交流,旨在推進第一批優勢交流合作項目的啟動實施。常學奇院長會見了到訪的馬偉民主任,介紹了院核應急相關領域在基礎能力建設和國際交流平臺構建方面取得的喜人進展,希望通過與香港天文臺的交流與合作共同把彼此的優勢資源利用好,把合作項目落實好,促進核應急能力提升,為2019年的雙邊協調工作會做好準備。隨后,馬主任馬偉民與核應急與核安全研究所、核環境科學研究所進行了技術交流,院辦公室國際合作組派員參加了會議。
On Sept 10th, Mr. Ma Wai-man, the senior scientific officer of HKO Emergency Preparedness and Assessment, visited CIRP to accelerate the implementation of prioritized collaborative projects. President Chang met with Mr.Ma, and introduced the sound progress of CIRP made in the area of nuclear emergency capacity building as well as international exchange platform construction. "By collaboration, I hope CIRP and HKO could make full use of the resource advantages of each other to ensure the efficient implementation of joint projects enhancing EPR capabilities of our both sides, and prepare for the coordinating meeting in 2019 ", said Chang. Later, Ma joined a technical discussion with the dept. of nuclear emergency and safety and the dept. of nuclear environmental science., the international cooperation office also attended the discussion.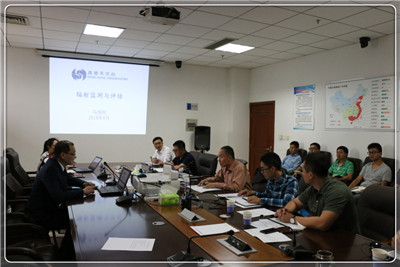 會議期間,馬主任介紹了香港天文臺輻射監測和應急準備工作的最新進展,核應急與核安全研究所介紹了我院核應急發展的重點,演示了核應急評價系統,還介紹了神盾-2015演習情景和參數設計情況。核環境科學研究所圍繞后果評價和大氣擴散模擬工作的近期目標和階段進展作簡要介紹,并就環境輻射監測和實驗室比對工作與馬主任進行了交流。此外,與會人員就應急演習方案設計,應急評價系統中應急工況、公眾溝通等內容進行了討論。會后,馬偉民主任參觀了中輻院大氣邊界層風洞實驗室。
During the meeting, Ma introduced the latest developments of HKO in the field of radiation monitoring and emergency preparedness. Representatives of the dept. of nuclear emergency and safety made presentations on development priorities of nuclear emergency, Shendun-2015 emergency exercise situations and details of parameter design. Meanwhile, the nuclear emergency assessment system was also showed, followed by presentations, made by the dept. of nuclear environmental science, on consequence assessment, atmospheric diffusion simulation, and inter-laboratory comparison on environmental radiation monitoring. In addition, participants had discussion on the design of emergency exercise plan, operation condition of emergency assessment system, and public communication. After the meeting, Ma visited the atmospheric boundary layer wind tunnel of CIRP.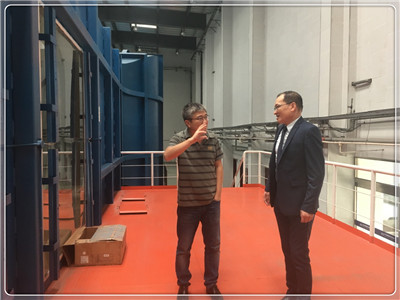 雙方形成多項共識,將在應急演習情景設計和源項分析、環境輻射本底調查、三維立體監測和低空無人機輻射監測系統開發等方面進行后續交流,在后果評價和環境樣品監測、大氣擴散模擬誤差來源等方面進行研究比對。
Both sides reached multi-field consensus on emergency exercise situations design, environmental background radiation investigation, three-dimensional monitoring and radiation monitoring system dependent on low-altitude unmanned aerial vehicle. Comparative study on consequence assessment, environmental sample monitoring, and error sources of atmospheric diffusion simulation will be conducted between CIRP and HKO.
我院與香港天文臺在輻射環境監測、應急準備與響應等領域的交流合作由來已久。2017年9月,常學奇院長帶隊訪問香港天文臺期間,雙方簽訂了雙邊合作意向書,并在技術層面擬定了未來合作事宜紀要,明確了雙方各領域聯絡點。馬偉民主任此次來訪,加深了我院與香港天文臺在輻射監測與應急響應等領域的相互了解,明確了合作項目,為雙方今后開展互利互助的合作奠定了良好的交流基礎。
CIRP and HKO have cooperated in the field of environmental radiation monitoring and emergency preparedness and response for a long time. Prof. Chang Xueqi, president of CIRP, visited HKO in September 2017 and signed a bilateral MoU, drawing up minutes for future cooperation as well as designating contact points of both sides in all technical fields. The visit of Mr. Ma Wai-man has deepened the understanding between both parties and made the cooperation direction clearer, laying a good foundation for continuous mutually beneficial cooperation in the future.