Expert from Swedish Radiation Safety Authority Visited CIRP
2018-12-04
10月15日至18日,瑞典輻射安全管理局(SSM)廢物處置專家徐樹蘭教授應邀來院訪問。徐教授為我院2018年度國家外專局引智項目資助專家,此次來訪主要是與核環境科學研究所就放射性廢物處置安全全過程系統分析和安全評價等技術進行深度交流。
Prof. Shulan Xu, expert in waste disposal, working with Swedish Radiation Safety Authority, visited CIRP from 15 to 18 October, 2018 as invited lecturer. This visit is a regular state-funded foreign expert introduction project of CIPR in 2018, approved by the State Bureau of Foreign Expert Affairs, to have an in-depth discussion with the Dept. of Nuclear Environmental Science on safety case of radiological waste disposal and safety assessment.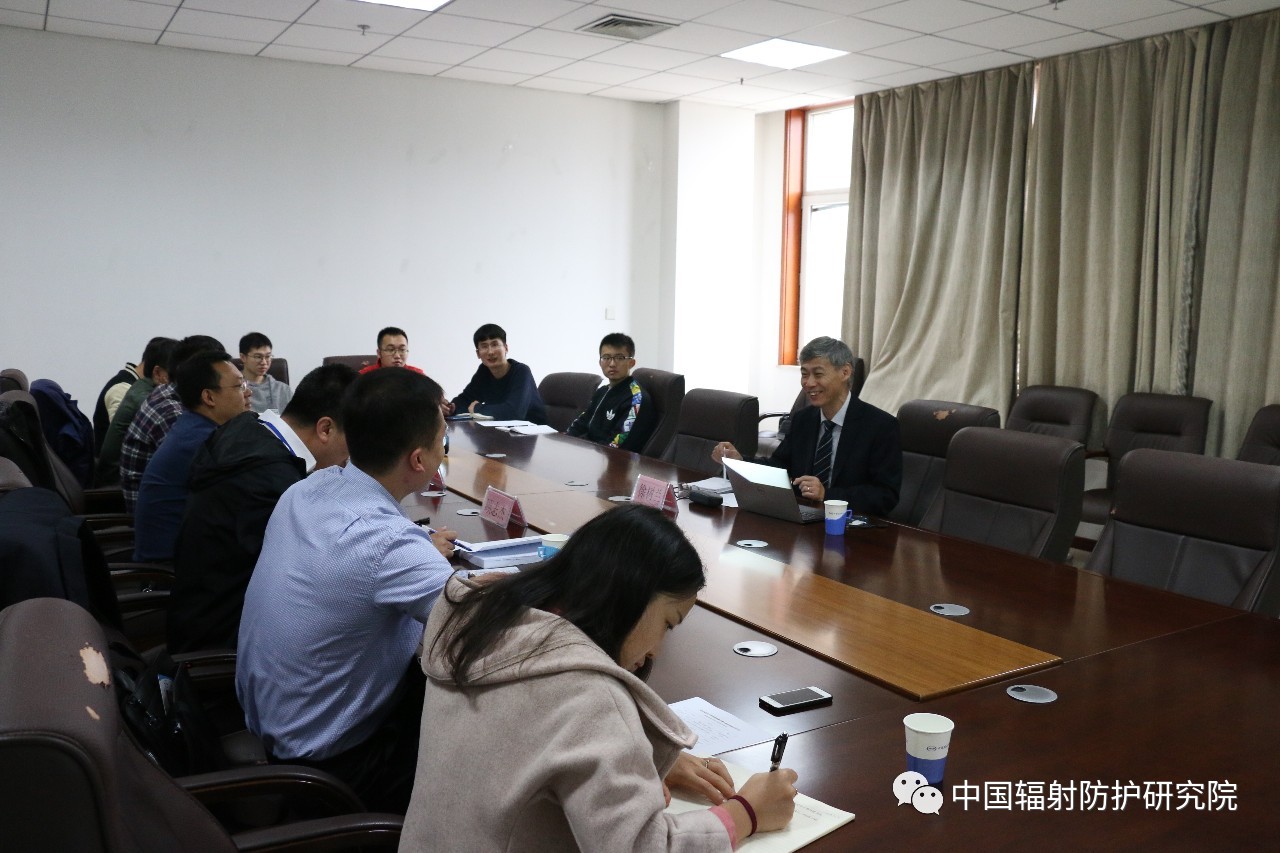 交流會上,徐樹蘭教授重點闡釋了放射性廢物處置安全理念"safety case",即安全全過程系統分析,并與參會人員交流了safety case在國際和國內目前發展的現狀,同時還應邀介紹了瑞典廢物處置安全評價的要素及審管要求。核環境所、三廢治理所與會人員就景象開發與選擇、定性與定量分析、污染物在地下水的遷移過程模擬、遠場的安全評價方法等多個問題與徐教授進行了討論,并就現有研究領域、技術能力、近期重點工作以及我國中低放和高放廢物處置場安全評價情況進行了報告。
At the meeting, Prof. Xu elaborated "safety case", the safety philosophy of radioactive waste disposal, referring to systematic analysis of the overall safety process. Its developments inside and outside China were discussed. Meanwhile, Prof. Xu was invited to introduce the safety assessment elements and regulatory requirements for waste disposal in Sweden. The participants of the Dept. of Nuclear Environmental Science and the Dept. of Waste Disposal had discussion with Prof. Xu on a lot of issues, for instance, scenario development and selection, qualitative and quantitative analysis, simulation of pollutant migration in groundwater, safety assessment of the far field. During the exchange, representatives of the Dept. of Nuclear Environmental Science made reports on existing research fields, technical competence, priority areas of work, and domestic safety assessment status of low-and-intermediate level and high level radioactive waste (LILW and HLW) disposal site.
會上,雙方還共同擬定了合作開展中低放廢物處置的安全全過程系統分析工作,此舉有助于提高我院在該領域形成完整安全評價報告的技術能力,進一步促進廢物處置安全評價水平的提升。
Both sides reached a consensus to jointly carry out safety case research of LILW, improving the institute expertise of making a complete safety assessment report, which further promote the safety assessment level of waste disposal.
訪問期間,徐教授參觀了我院放射生態實驗室、大氣邊界層風洞等實驗設施平臺。
During the visit, Pro. Xu visited the radiation ecology laboratory and the atmospheric boundary layer wind tunnel.